---
---
Custom-Made Decals & Labels
Promote Your Business, Brand Your Work, &
Leave a Lasting Impression
---
---
---
---
Calgary's Decal & Label Experts Since 1972.
---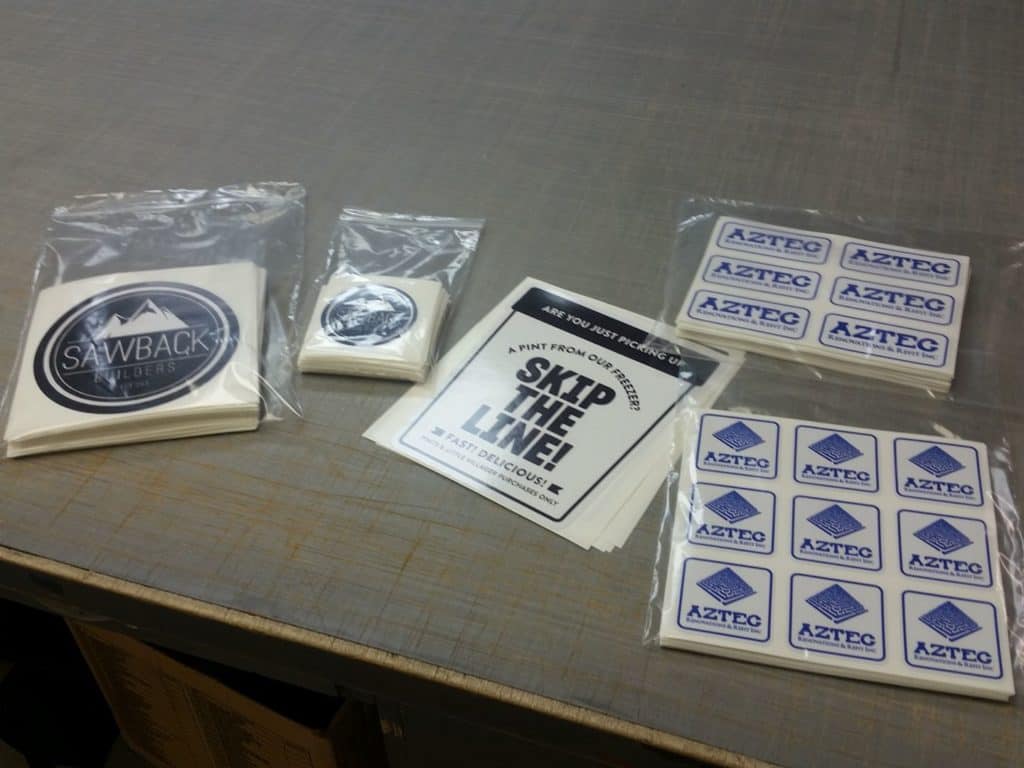 Affordable, effective, and easy to apply, decals are a great way to spread your message.
Many businesses use vinyl decals/labels as a way to keep their brand top of mind. Not sure what we mean? Have a look at your home's furnace- can you tell the last furnace company that inspected and maintained it? Chances are they've left a big decal making it so you can't forget them!
Made from high-quality vinyl, our decals are designed to stick around (and look good doing it). So long as the surface is relatively clean, you can apply your decals anywhere.
Suitable for both indoor and outdoor use, vinyl decals are a great investment. Many people take advantage of vinyl decals for communicating important messages (such as safety warnings), showcasing a promotion, or just to have some fun.
---
---
Enjoy Your Decals in 3 Easy Steps

Our expert team will walk you through your project from start to finish!

Step One:
Consultation

We start off by taking the time needed to understand your needs. What will you use these decals for? What kind of message do they need to convey? How many decals do you need? We capture all this information to ensure we create a decal you'll love!

Step Two:
Design

Our graphics team gets to work creating designs based on the information we captured during your consult. Our team will capture the look, feel, and intent you want your decals/labels to convey. Once you approve the design, we will submit a quote for production.

Step Three:
Manufacture

Manufacturing your decals can take up to 5 business days. We use a high-quality vinyl that has proven itself to be durable and attractive, retaining intricate designs and bold colours with ease. Once fabrication is completed we will call you to arrange pickup.
Let Us Quote Your Project
Our custom-made decals & labels are top-notch. Let over 45 years of experience work for you.
---
FAQ:What You Need to Know About Vinyl Decals & Stickers
---
If you have a question that isn't answered here, please call us! Our signage experts are here to ensure that you have all the information you need to make an informed decision.
We can produce vinyl decals/labels quickly, and rush orders are available if needed. Typically, the process takes 5 business days from start to finish (including your consult, design, and time to print). Significant revisions or delays in feedback/approval will lengthen this time frame, but don't worry- we're always happy to work with you, even if it takes a bit more time.
Customer Reviews
---
A pleasure to work with, very professional, brought great ideas to the table to execute the concepts and turned everything around on our crazy tight schedule with very competitive pricing. Highly recommend them

Tara Higgins

Awesome experience! Such a treat to have a simple, clear, process for requesting quotes and designs, friendly and quick response. And then, a fabulous sign, beautifully installed!

Erin Waite

Summit Signs is a great company to work with. They are very knowledgeable, easy to communicate with, detail-oriented and are very skilled at their craft. They understand what looks good in my space and made the appropriate recommendation. I love how our signage turned out!

I C S
More Google Reviews
---
Contact Us

Summit Signs & Design
#7 - 6125 11 St SE
Calgary, AB T2H 2L6
(403) 265-1444
SEND US AN E-MAIL
---
---
---