Small businesses currently account for more than 98% of all employer businesses in Canada. With that kind of competition, it's more important than ever to make sure your business is standing out from the rest. But that doesn't necessarily mean you'll need to spend more time and money grinding it out with email and social media marketing. Even in the digital era, some of the best ways to reach your customers still exist in real life.
One innovative way to improve your brand's visibility is to create a custom wrap for your company vehicle(s). Far from a vanity project or an unnecessary expense, this strategy can actually turn your fleet into potent advertising tools that make others aware of your brand and keep you in the minds of your current customers.
How Are Vehicle Wraps Made?
Most high-quality vehicle wraps are made from vinyl or 3M decals with custom designs printed on them. These decals can be made to cover a part of your vehicle, or they can cover it entirely.
The process for creating a custom vehicle wrap starts with a consultation between you and your printer, who will help you determine:
The size of the wrap you need

How much of your vehicle it will cover

Whether it will be in colour or in black and white

Whether it will be made from vinyl or 3M
Next, your printer will work with you to create the design for your wrap (some printers require you to submit your own design, while others have in-house graphic teams to ensure the final product serves your needs). Finally, your printer will fabricate your wrap, check it for quality, and apply it to the vehicles it's meant to go on.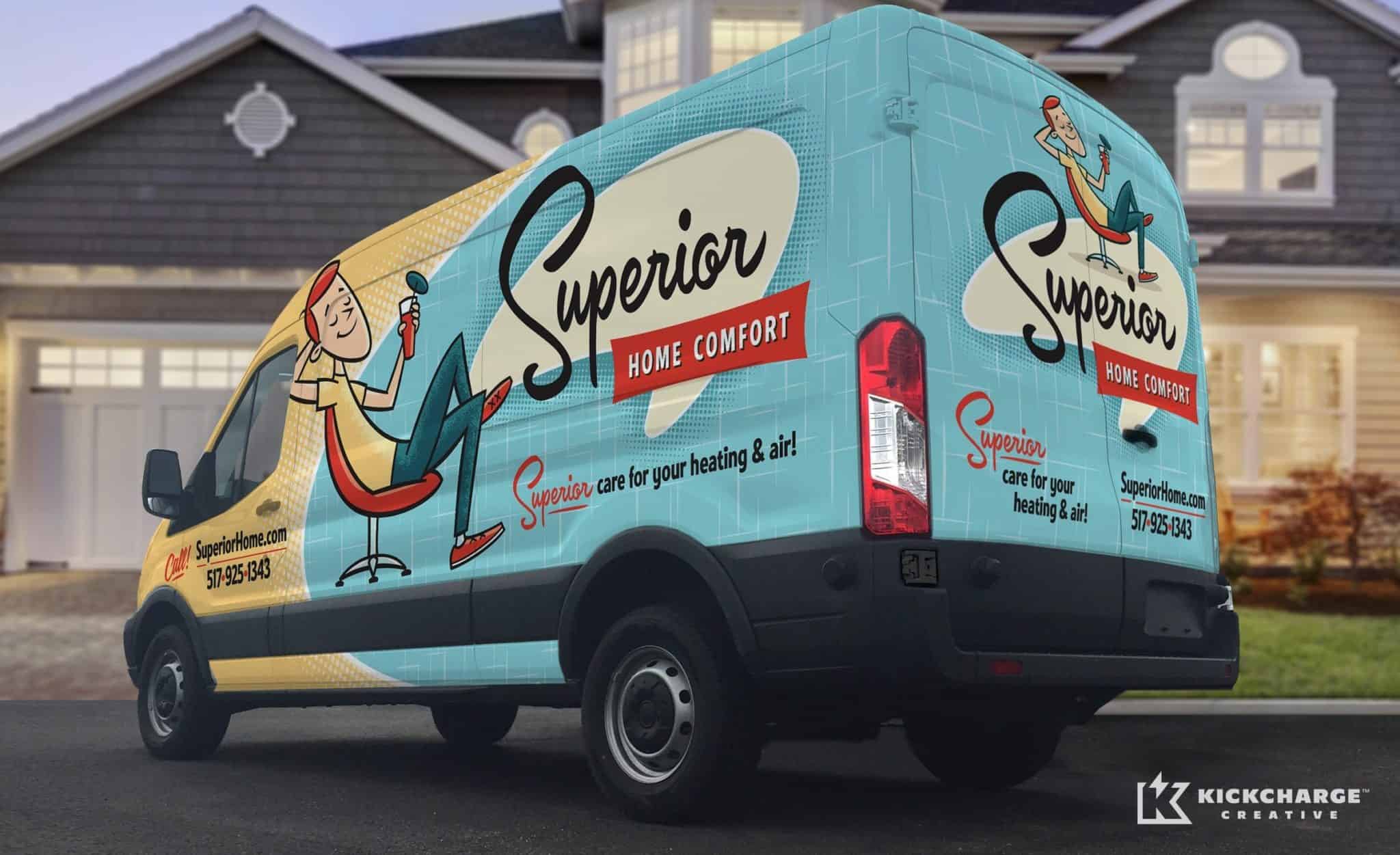 How to Design a Vehicle Wrap
Designing a vehicle wrap by yourself can be difficult. You'll need to make sure the text and images you want to display fit properly within the margins of the decal you're creating the design for, and check to see that relevant information will end up on parts of the vehicle people are likely to see when it's being driven in public.
Free design platforms like Canva offer some simple templates for creating car stickers, but these aren't necessarily good options for designing an entire vehicle wrap. For best results, you'll want to find a printer with a dedicated design team that can bring your ideas to life.
Professional designers will know how to display the information you want in the right places and ensure that no vital details are cropped out during fabrication. They'll also present you with mock-ups during the process so you can approve the design before it's finalized.
How Much Do Vehicle Wraps Cost?
Wrapping a small vehicle typically costs between $500 and $1500. However, numerous factors can affect the final cost of a vehicle wrap, including:
Whether the wrap is complete or partial

Whether you use vinyl or 3M (which is more expensive)

Whether the design is colour or black and white

Any special installation requirements
Larger vehicles also cost more to wrap. For instance, it could cost twice as much to wrap a large truck or bus as it would to wrap a small sedan or compact.
The Benefits of Wrapping Your Vehicle
Now that you know something about how to get a custom wrap for your vehicle, you might be wondering how it can benefit you. Here are a few of the advantages vehicle wraps bring to businesses that use them:
Cost-Efficient Advertising
Do you know how many people see your vehicle while you're driving it every day? The answer might surprise you.
It turns out that a wrapped vehicle being driven through a standard city can generate tens of thousands of impressions per day. The overall cost-per-thousand-impressions for a custom vehicle wrap is only $0.77, which means that you get a lot of bang for your buck.
Built-In Mobility
Want to reach different markets with your message? Simple—just drive to different places. The nature of custom vehicle wraps also makes them great ways to advertise in markets that are difficult to reach through television, newspapers, digital marketing, and other channels.
Subtle but Effective
The trick with selling to people is that nobody wants to be sold to. That's another factor that makes vehicle wraps so surprisingly effective—they're entirely passive forms of advertising.
Nobody ever saw a car pass by in traffic and felt harassed or oversold to. Unlike other forms of advertising that clamour for your attention, vehicle wraps only work when people take the initiative to notice them—resulting in better engagement as well as visibility.
Considering a Custom Wrap for Your Company Vehicle?
For more information on wrapping your company car, feel free to reach out and ask us your questions. A member of our experienced staff will be more than happy to help you determine what kind of wrap would serve your vehicle best and consult with you about designing one.