Wrapping your vehicle can be an excellent way to promote a commercial business—or simply a unique way to add custom decorations to a car or truck. Some people even opt for clear vinyl wraps as a way of protecting a paint job. But before you decide to wrap a vehicle of any kind, you probably want to know how much it's going to cost. Fortunately, we've been wrapping vehicles at Summit Signs for years, and we're only too happy to share our knowledge of the process with you.
See also:
Below, you'll find our breakdown of the costs involved with wrapping a vehicle, along with ballpark estimates for vinyl-wrapping cars, trucks, and commercial vehicles. Ready for a deep dive into the process, materials, and skills involved? Then let's wrap.
What Factors Influence the Cost of Wrapping Your Vehicle?
Obviously, the costs involved with wrapping vehicles vary—but here are the main things we consider when putting together a quote:
The Size of the Decal
One of the first questions we ask any prospective customer who comes to us for vehicle wrapping is whether they want the decal to cover their vehicle completely. Fully wrapping a small sedan can be more expensive than wrapping a Ford F350 if the pickup only needs to be partially covered.
The Number of Colors Involved
Is your design black and white, greyscale, or does it use multiple colours? Full-color designs are always the most expensive, owing to the ink used in the printing process.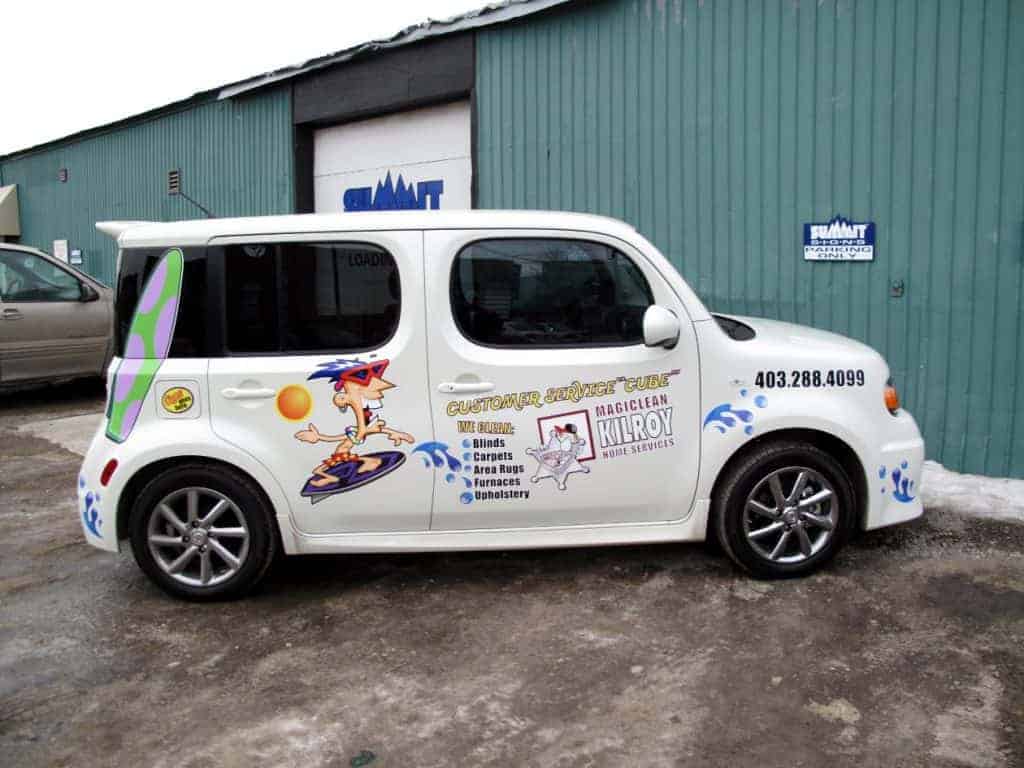 The Type of Vinyl Used
Not all vinyl is created equal Vinyl comes in gloss, matte, or satin varieties (and the costs tend to go up in that order as well). There are also different brands of vinyl available at most businesses that offer wrapping services. For example, our customers are able to order vinyl wraps in high-quality 3M™ Print Wrap Film Series 1080, which offers an extremely wide range of textures and colour options.
The Size & Shape of Your Vehicle
Finally, installing a vinyl decal can be more complicated (and therefore more expensive, since the installation will take more time) if your vehicle is exceptionally large or shaped in such a way that the decal must be arranged around specific features. The size part is pretty self-explanatory (more car to cover means a bigger decal and more work), but the shape part is worth explaining in more detail:
Imagine your car has an exposed engine on the front hood. Since we can't cover that with your decal, we'll have to cut the vinyl to go around it, while still ensuring that it covers the original paint job completely. That process requires precision and skill, meaning more labour on our part and higher associated costs.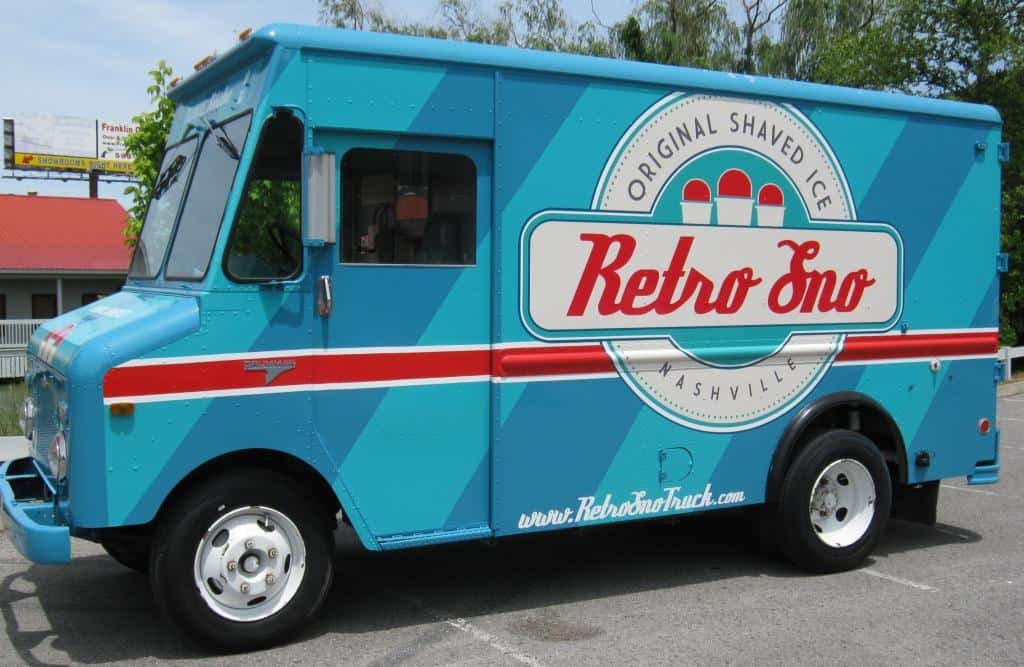 How Much Does It Cost to Wrap a Car?
Let's say you're wrapping a small car—a Mini Cooper or Fiat 500. There's not a lot to work around with cars like those—we wouldn't have to cut the decal to fit around exposed engine parts or remove major portions of the car to make room for the decals to be applied.
A complete wrap for one of those cars might start around $2500 CAD—going up from there if you wanted full colour or higher-quality vinyl with a special finish.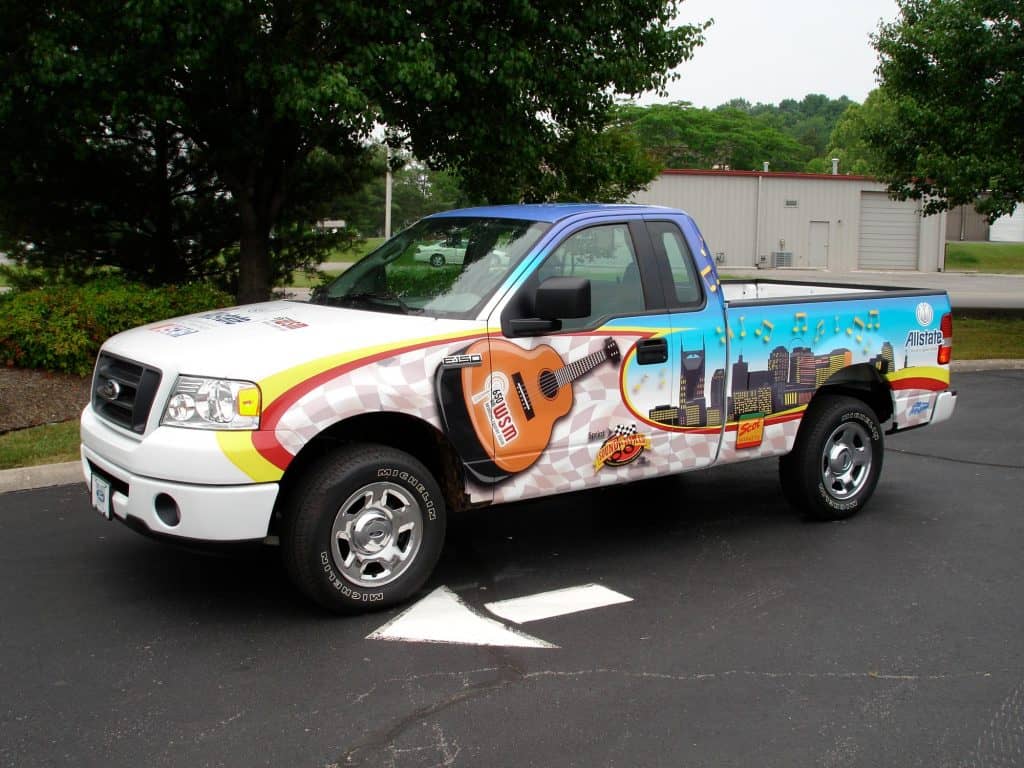 How Much Does It Cost to Wrap a Truck?
Wrapping a pickup truck (even a smaller one, like an older Toyota Tacoma) is generally harder than wrapping a car, owing to the fact that their shape is more varied. That means the parts of the decal have to be printed on a broader variety of panels, and more of the vehicle may have to be taken apart and put back together during the installation process.
Completely wrapping a small pickup truck can often be accomplished for $4000–$4500, but premium materials or designs incorporating multiple colours will drive the price up. When you contact us and send us the design for your decal, we'll be able to give you a specific quote for the job.
How Much Does It Cost to Wrap a Commercial Vehicle?
Commercial vehicles tend to be larger, since they need to hold the tools or materials your business needs to transport to and from different locations. Most of the commercial vehicles we wrap are vans or larger pickups (although we occasionally wrap smaller company cars as well).
At Summit Signs, we don't charge a special premium for wrapping a vehicle just because it's going to be used for business purposes. In fact, wrapping a commercial vehicle might even be cheaper than wrapping one for personal use, since the business information you're trying to display can often be conveyed with a partial wrap. Partial wraps for smaller commercial vehicles can start in the $500–$1500 range, making commercial vinyl wraps for vehicles a cost-effective advertising option.
If you're using a vinyl wrap to advertise your company, you may even be able to write off the cost as a business expense. Commercial vinyl wrap jobs should qualify as tax-deductible expenses, as long as you follow a few easy steps:
Make sure the design of the wrap visibly promotes your business.

Make sure the wrap is installed in such a way that the information promoting your business is legible.

Ensure the vehicle you are wrapping is a company vehicle and not a personal one (sole proprietors may need to incorporate and transfer their car into their company's name before they can write off the cost of a vinyl wrap).
How We Wrap Vehicles at Summit Signs
When we wrap vehicles, we follow a simple three-step process:
Design
When you explain what you want, our in-house designers will give you a quote and begin creating a mock-up. Once you approve their design, we'll move on to printing the decal.
Printing
Using special large-format printers, we'll turn your design into a high-resolution vinyl sheet and run it through a cold-press laminator to make it more durable. Then we do a quality-control check to make sure it's worthy of going on your vehicle.
Application
On your installation date, you'll bring your vehicle in so that a team of technicians can prepare it for the vinyl coating. Our application process includes the following steps:
We wash and dry the vehicle so that no dust or debris is caught underneath the wrap.

We heat the vinyl wrap with a blowtorch as we stretch it over each part of your vehicle.

We use a squeegee to press out any air bubbles while laying down the vinyl so that the finished product is entirely seamless.
Installations can generally be completed within one or two business days. The majority of the time spent on a vinyl wrap goes into creating the design.
Find Out How Much Wrapping Your Vehicle Will Cost
Whether you want a vinyl wrap for your tiny smart car or your big honkin' pickup truck, our team at Summit Signs has you covered—well, your vehicle, at least (you probably don't want to vinyl-wrap yourself; that would be… sticky).
When you contact us for a quote, be sure to tell us the make and model of your vehicle, and give us some information about your design—will it cover the whole vehicle or just specific parts, and what colours or textures need to be involved? Once we know that (and a couple of other things), we'll be able to give you a more precise quote for our services.
Use what you've learned above to budget effectively for a high-quality vinyl wrap, and check out this article on why vinyl wrapping your vehicle is a smart investment to learn more about the benefits of decorating your vehicle this way. Still have questions? Give us a call and talk to a pro.