A good sign offers your potential customers the information they need, but a great sign sticks with them long after they've seen it. Vinyl wrapped vehicles act like mobile billboards, spreading awareness about your brand as you go about your daily life or visit clients and customers.
Designing a sign that reflects you, and your business, can be tricky, but it doesn't have to be. Here are 19 awesome examples of vinyl-wrapped vehicles that we hope will help inspire your vinyl wrap design.
Car Wrap Inspiration: 19 Examples of What's Possible
This example is, which was used to advertise the Copenhagen Zoo, is both memorable and unique. The image itself is simple, but this vinyl wrap incorporates the entire bus into its design and creates an ad that is both unique and fun.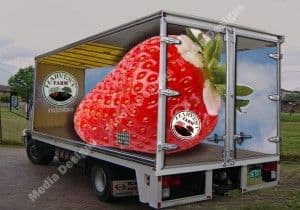 The design of this vinyl wrap for a farm offers a fun and interesting way to grow brand awareness.
The giant strawberry is both memorable and eye-catching and creates the sort of message that people will remember.
Metallic paint can be difficult to apply and maintain, but a vinyl wrap can make metallic simple.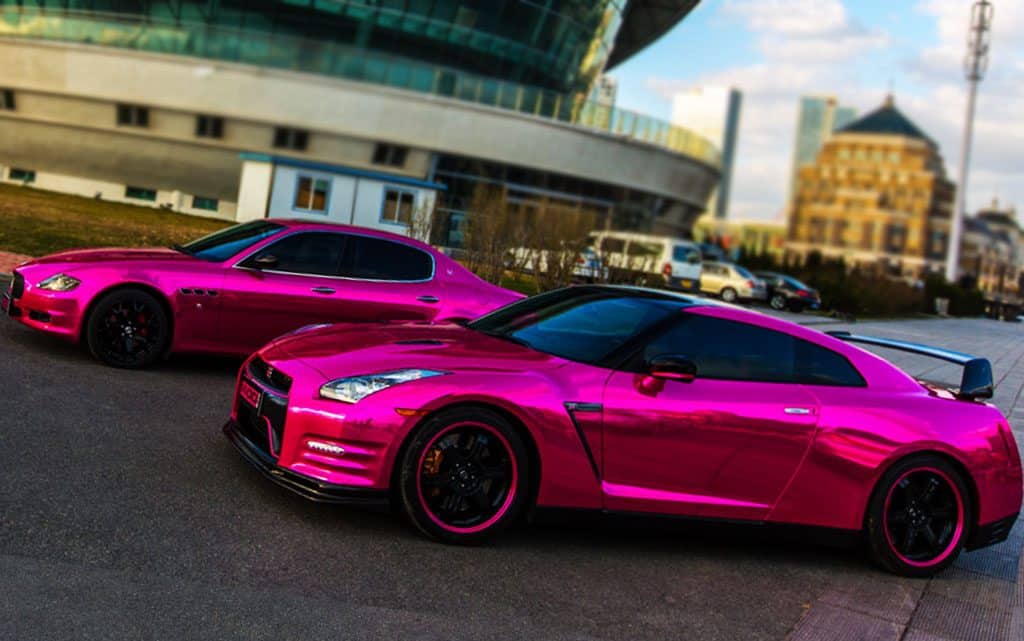 These bold pink cars are sure to attract attention and stand out from the crowd. Metallic vinyl wraps are also a great way to showcase the unique shape of a car.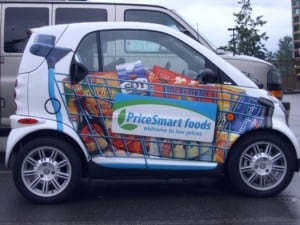 This grocery store's company car has been done up to look like a full grocery cart, incorporating the car's tiny stature into the design to create an ad that is extremely memorable.
The design uses the Smart's natural lines and shopping cart-esque shape to create a natural sightline that makes the logo visible in a fun and familiar way.
This grocery store's company car has been done up to look like a full grocery cart, incorporating the car's tiny stature into the design to create an ad that is extremely memorable.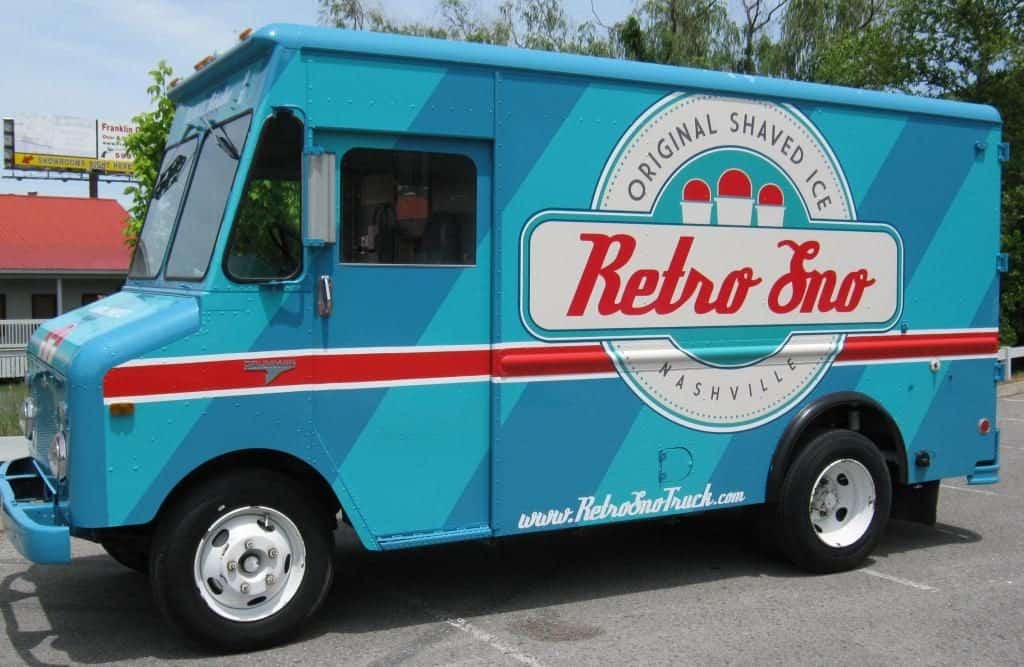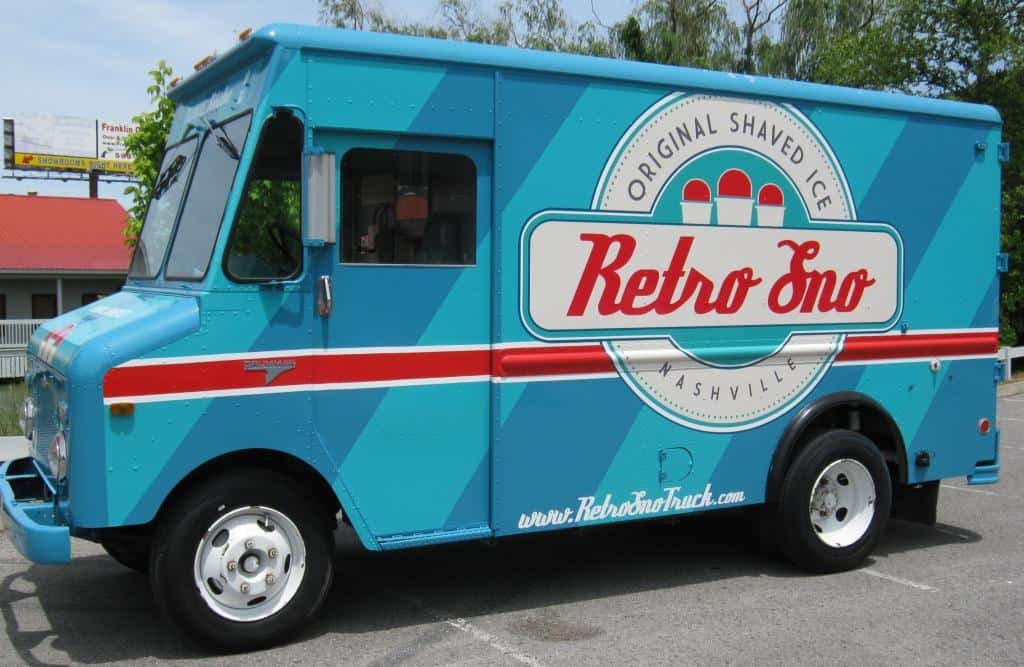 This snow cone food truck gives off a memorable vintage vibe with its crisp, clean logo and simple colour pallet. This design is both understated and memorable. The thin red stripe is bold, while the dark and light blue stripes on the background are more muted, a design choice that helps keep the pattern from overwhelming the logo.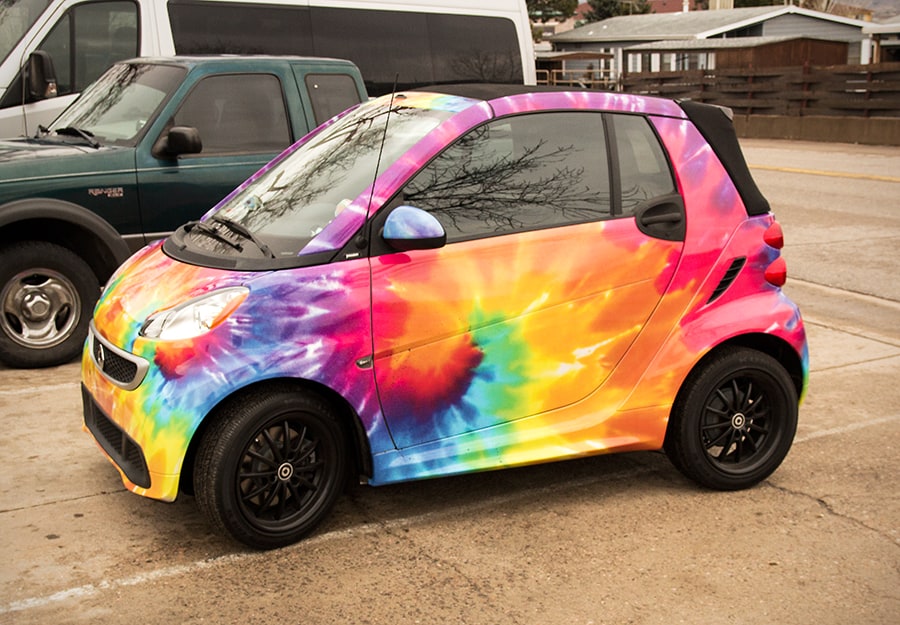 This smart car packs a lot of colour and demands attention. This simple tie-dye design is both iconic and timeless and lends an artistic flair to the vehicle.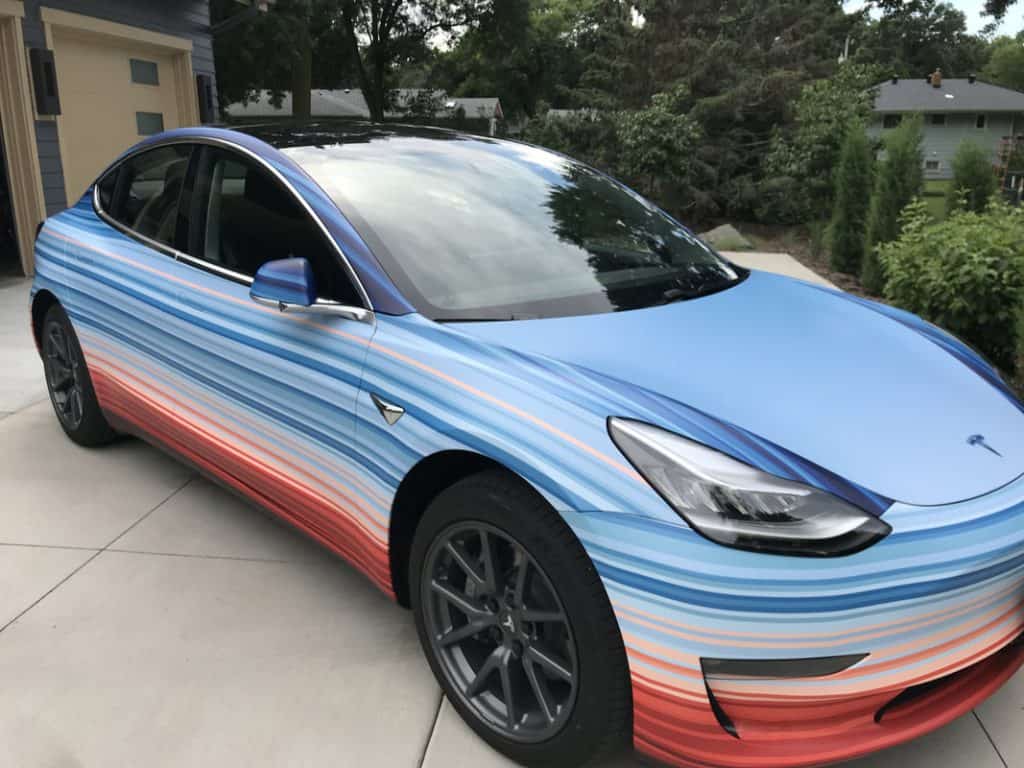 This Tesla sports a vinyl wrap that makes a subtle statement. The bright red slowly fades into the cool blue, giving this car a unique pattern that is both beautiful and understated.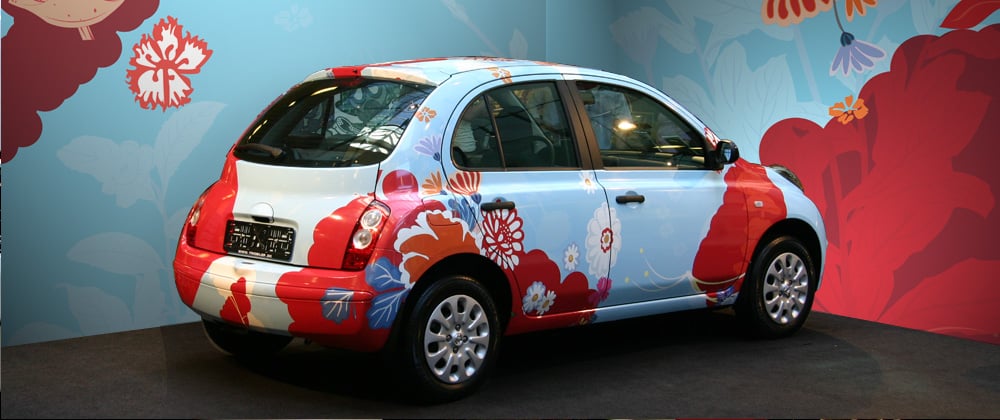 This car features a detailed floral vinyl wrap that gives it a lot of personality. This highly artistic wrap is both fun and elegant, and is sure to turn heads.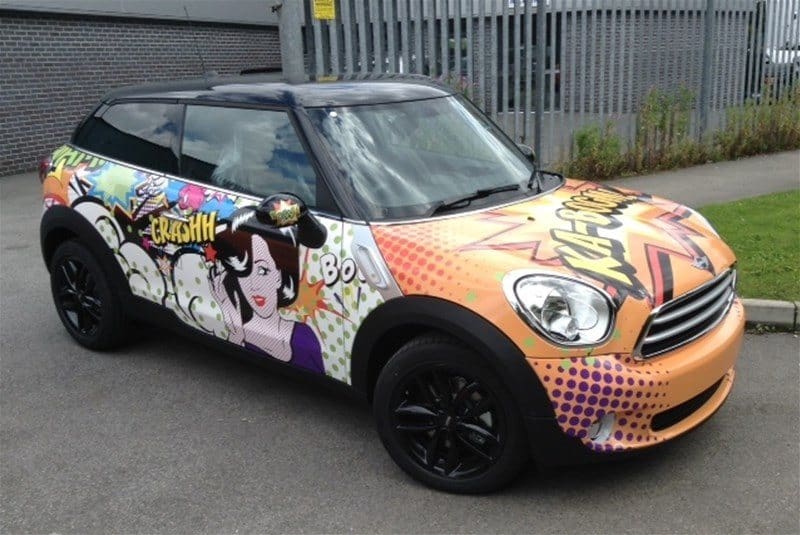 This comic book inspired wrap makes a bold statement that is sure to catch the eye of any comic book fan. The use of dots for shading is reminiscent of the classic comic book printing technique and the descriptive text is both fun and quirky.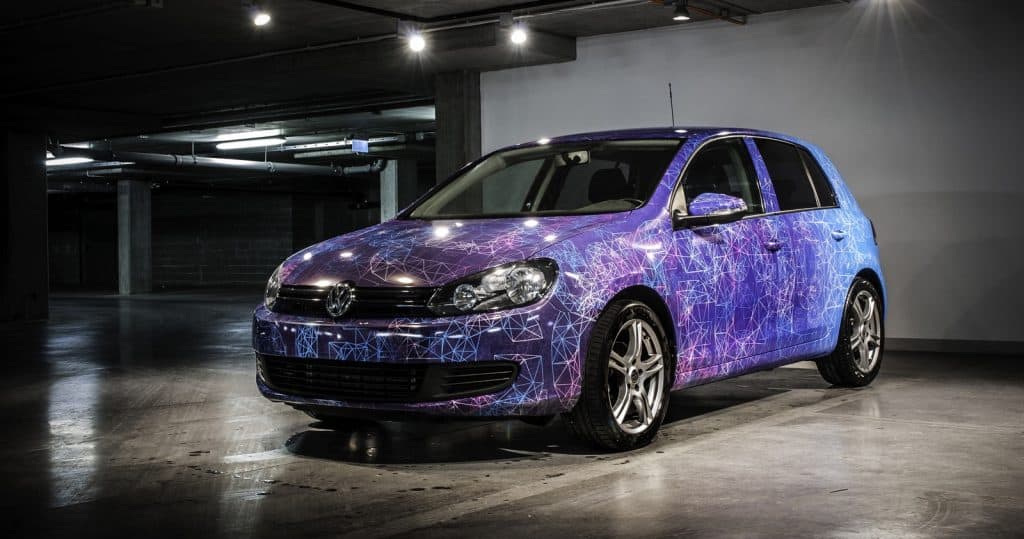 This blue and purple vinyl wrap features an intricate futuristic pattern. The complex pattern could be overwhelming, but the rich, soothing pallet balances it out nicely. The pattern gives the car a unique looking texture and helps it fade from dark purple to light blue nicely.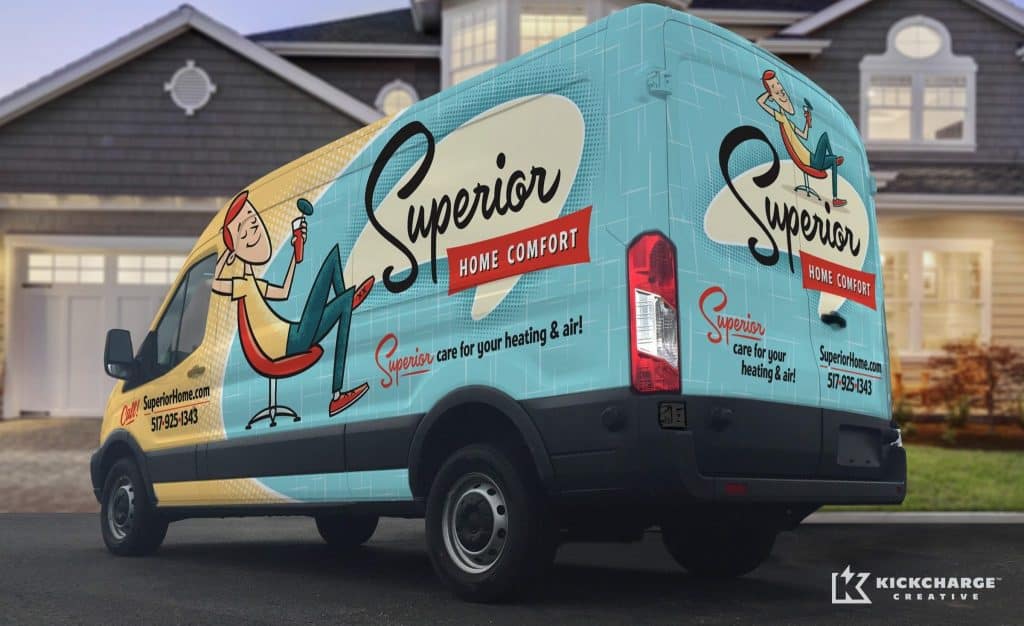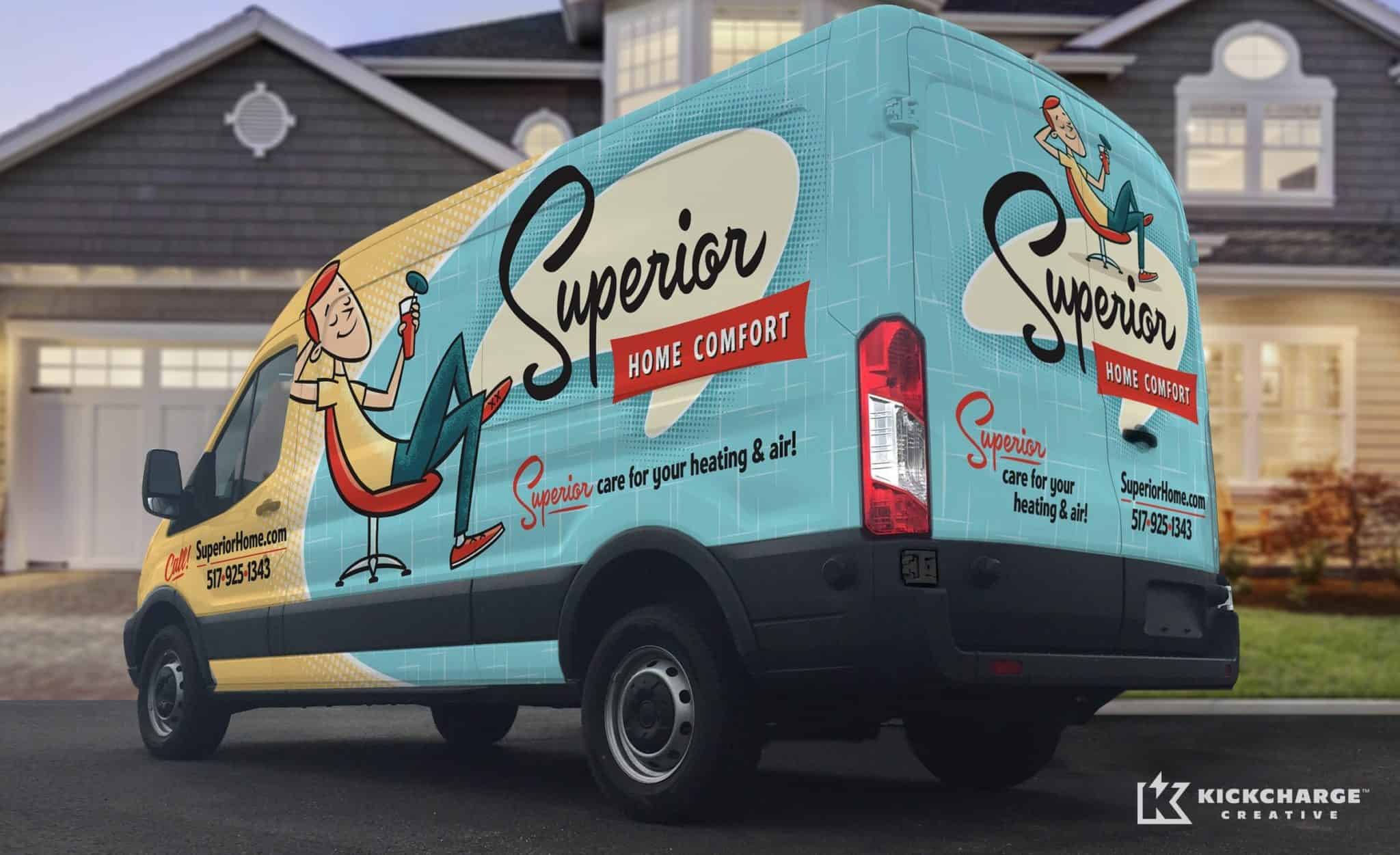 This company van features a unique branded vinyl wrap. The two background colours complement each other nicely, while the seated figure stands out with his red hair, shoes, glass and chair. The logo is easy to see, and the red box draws attention to it without overwhelming the rest of the design.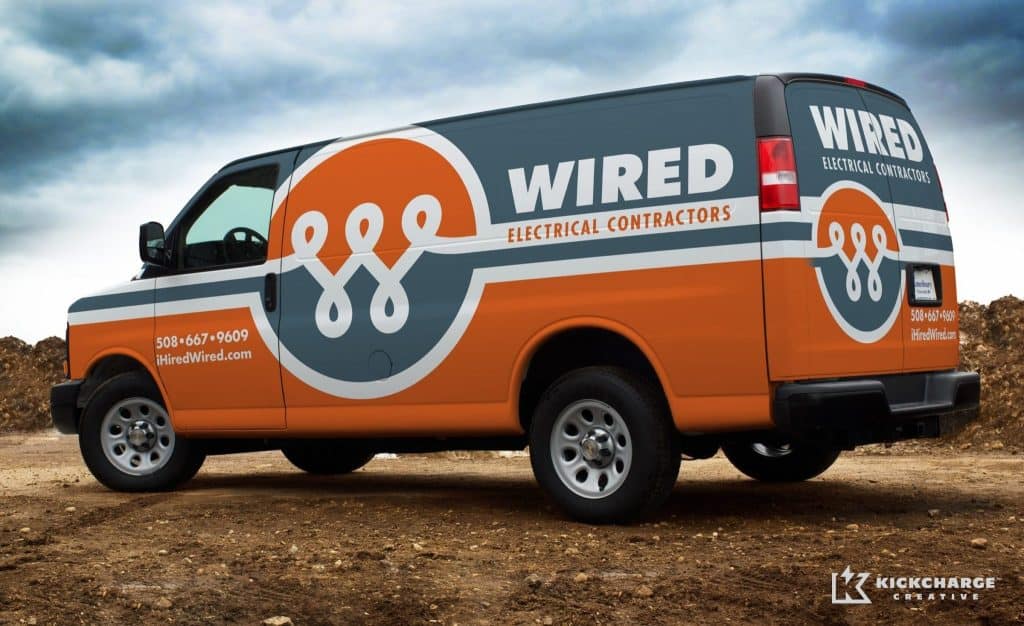 This company van features a bold pallet of orange, dark bluish grey, and white that pairs nicely with the crisp lines in the logo. By reversing the logo colours on the rest of the van this vinyl creates a bold statement that really stands out.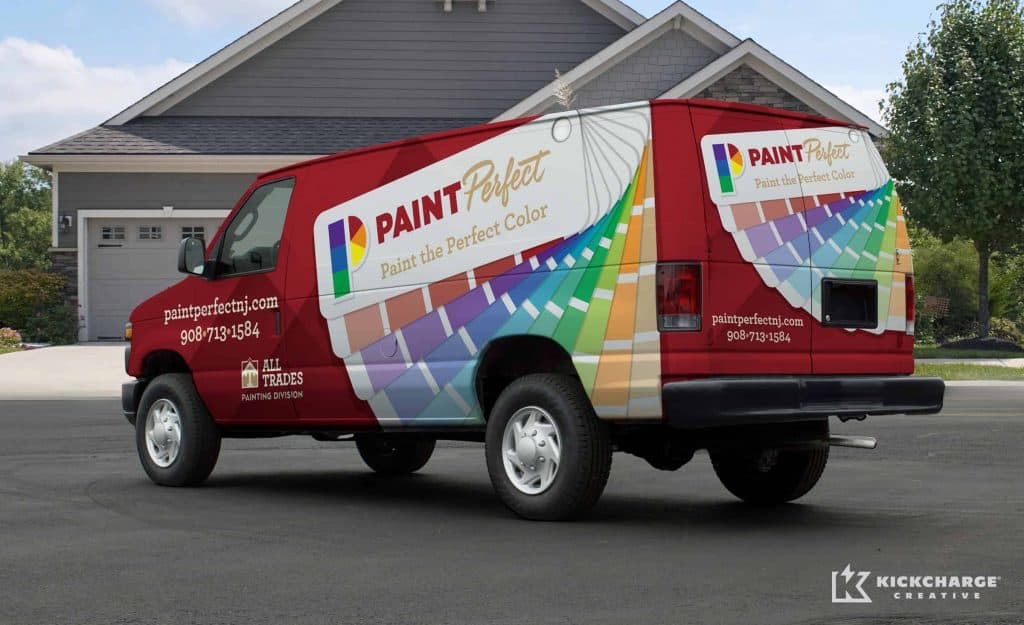 This company van for a painting company uses an image of a paint swatch booklet to both catch our attention and incorporate the company's product into the overall image design. The red background it is paired with is bold, but doesn't overwhelm the main image. The logo featuring red lettering and a multicoloured "P" ties both elements together nicely.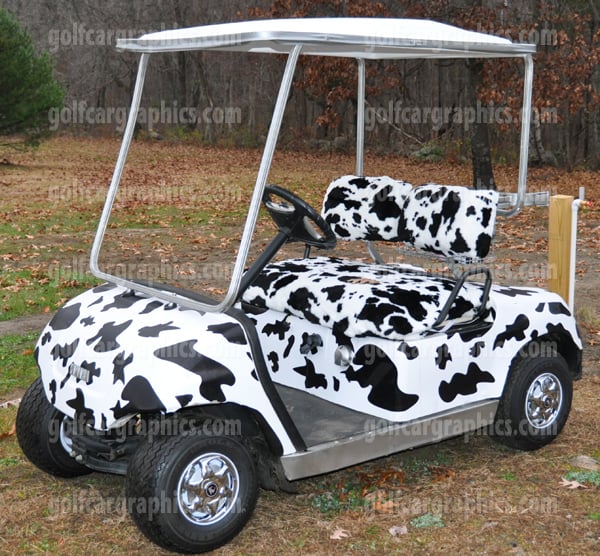 This fun cow inspired print is sure to make this golf cart stand out at the course. The simple pattern and bold black and white pallet work in harmony to create a pattern that is unique and quirky.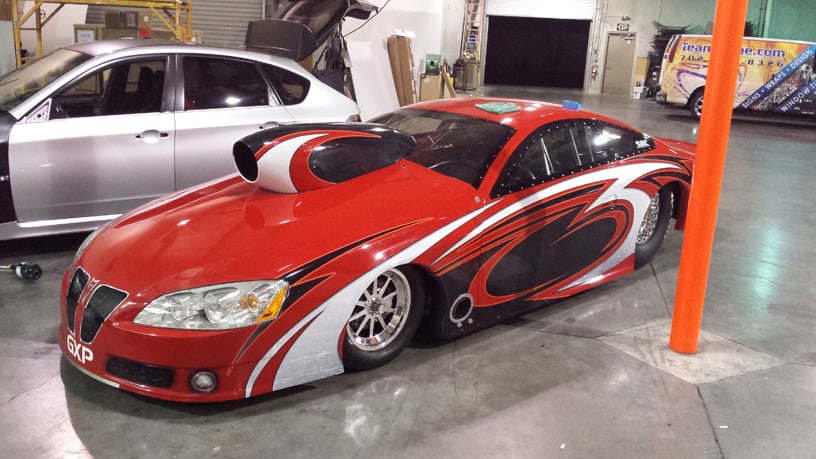 This racing car features a purple, red and white pallet and a circular swirl pattern to create a bold statement. The pattern covers the entire car and echoes the overall rounded shape of the vehicle.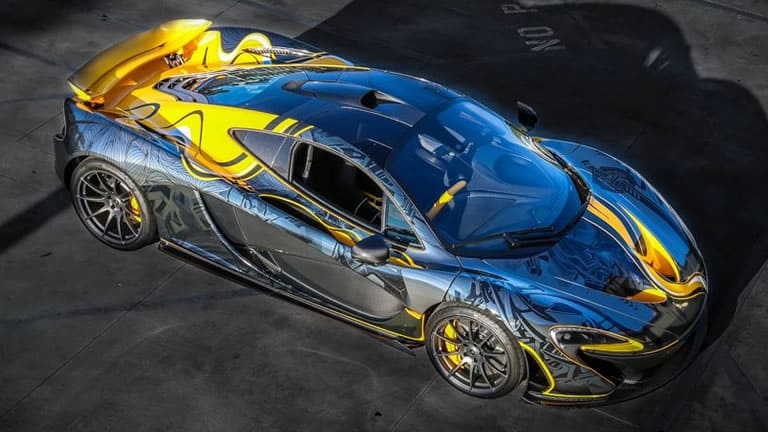 The blue, yellow, and grey pattern on this McLaren makes a bold statement. The yellow stands in stark contrast with the more subdued blue and grey and gives the car a few splashes of colour without overwhelming it.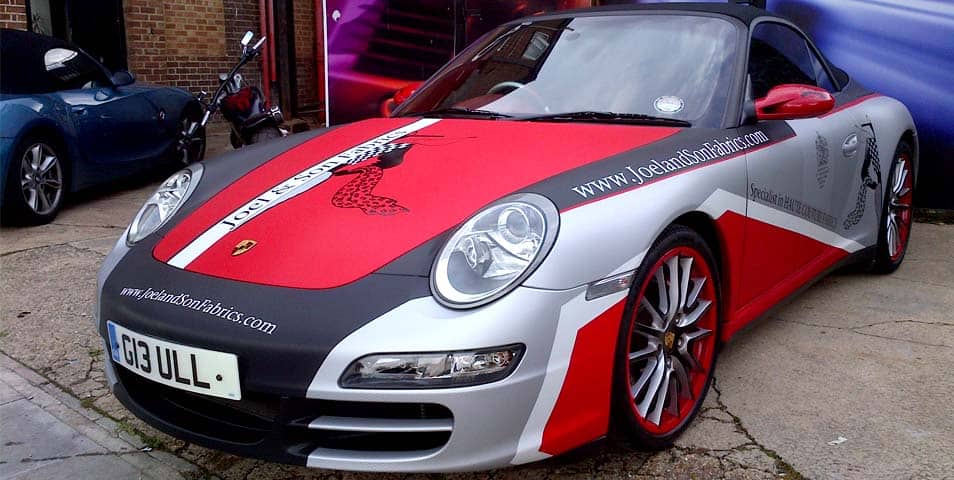 This vinyl wrapped Porsche features a bold geometric pattern in red, black, grey, and white. It also sports a small black logo on the red hood. The logo is understated and doesn't try to compete with the geometric pattern.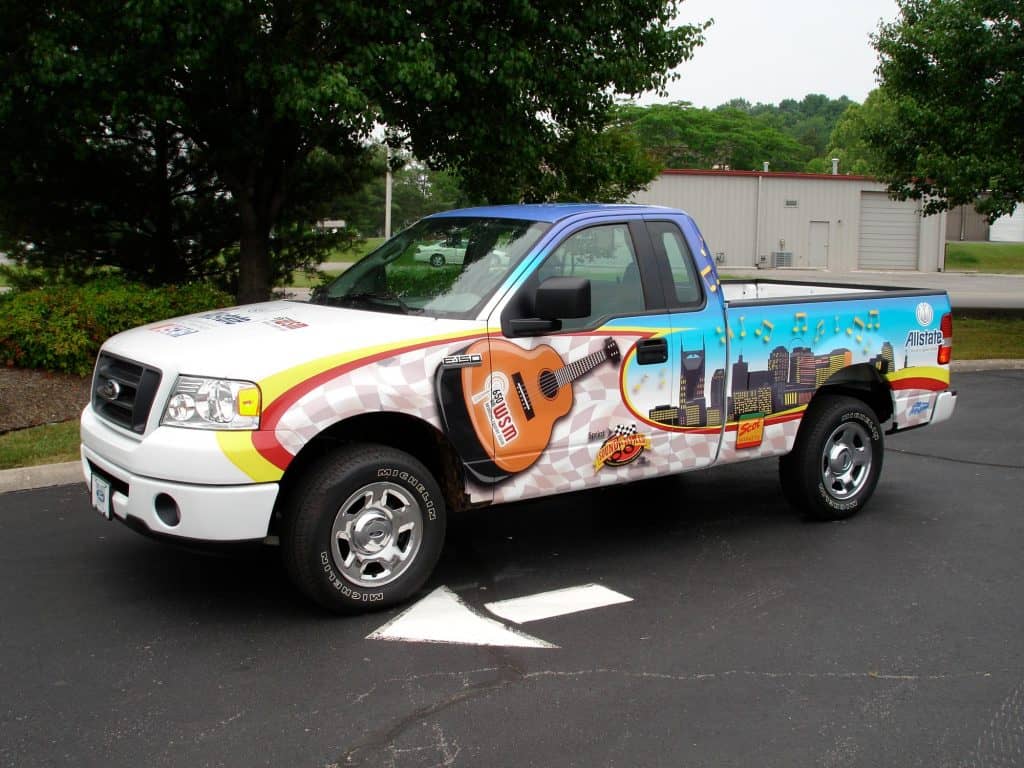 This truck clearly belongs to a music lover. The simple guitar graphic pairs well with the checkered background and the skyline. The graphic is bold without being overwhelming and is incredibly detailed.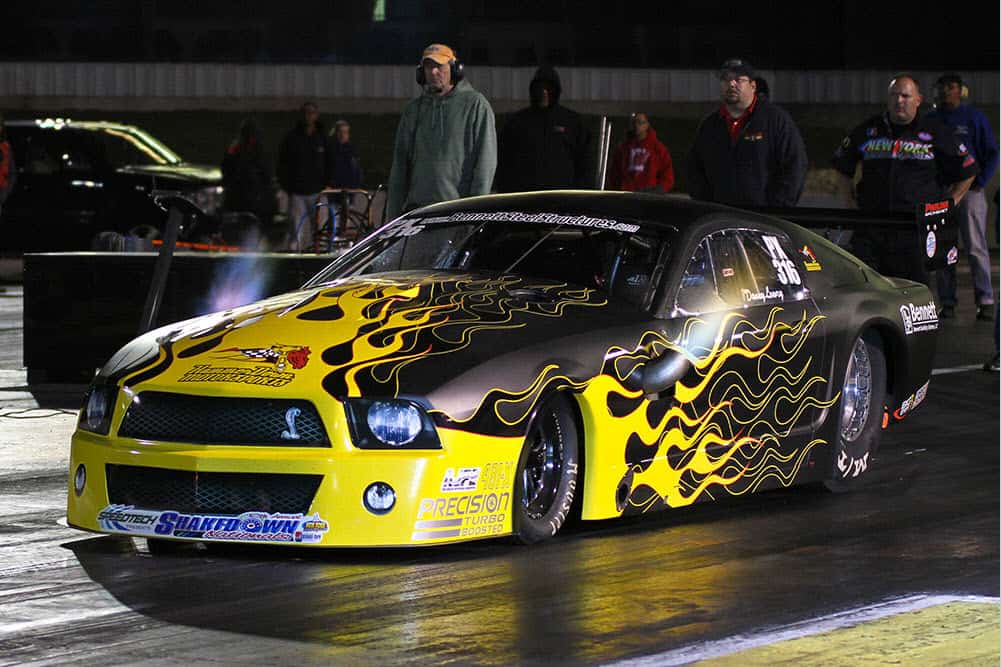 This bold race car features yellow flames on a matte black background. The flames offer a nice transition between the yellow front of the car and the black back, and feature both solid flames and outlines of flames, giving the car a unique depth and texture.
A vinyl wrap is a great choice to add a unique design or message to any vehicle, whether it is for personal or company use. A unique and interesting vinyl wrap is an effective way to turn your car into a mobile advertisement for your business.